full-size no.1, click on the images below for a larger view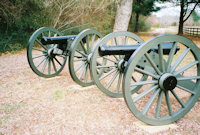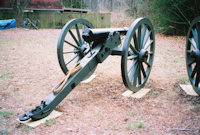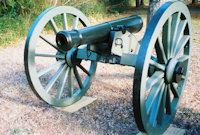 Full-Size No. 1 Field Carriages Supporting Full-size 1841 style 6-Pdr Gun Barrels, constructed from a central steel tube, a thin steel outer jacket and concrete-fill in between. Feels like cast iron... looks like a $7,000.00 machined gun barrel. These are non-shooters or 'Decorator' gun barrels. Four styles available at any size, including 125% size for long-distance viewing.
---
3/4-size no.1, click on the images below for a larger view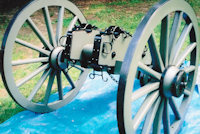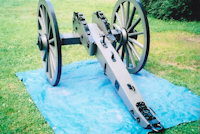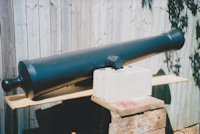 3/4-size civil war no. 1 field carriage constructed of steel and solid PVC, painted in Olive Drab green, 42" tall wheels.
Full-size (66" lg.) 1841 style 6 pdr. gun barrel; steel-jacketed and filled with concrete, solid PVC end-pieces (muzzle and breech).
Three other styles of gun barrels available (Parrott Rifle, 12 pdr. Field Howitzer, 3" Ordnance Rifle). All four styles available in 1/2-size, 2/3-size, 3/4-size, full-size, and 125% full size.
---
Announcement: Revolutionary War Ordnance
Orders are now being accepted for Revolutionary War 1779 3-pounder gun carriages and gun barrels. Full-size (40" wheel diameter) and reduced size models available. Gun barrels are exact in appearance but are steel-jacketed and filled with concrete. The muzzle and breech end-pieces are solid PVC.
OVERSIZED GUN BARRELS AND CARRIAGES ARE AVAILABLE
Oversized units make viewing-from-a-distance more distinct. And, when close-up, the sheer enormity of the object is quite impressive. 125% of full-size provides a 6' tall (6' diameter) wheel, for example.
NEW - STACKS OF LARGE SIZE (Hollow) STEEL BALLS
3", 4" and 5" diameter balls - WELDED TOGETHER.
| | |
| --- | --- |
| SQUARE STACKS (4 inclined sides) | TRIAGULAR STACKS (3 inclined sides) |
| 2 layer - 5 balls | 2 layer - 4 balls |
| 3 layer - 14 balls | 3 layer - 10 balls |
| 4 layer - 30 balls | 4 layer - 20 balls |
---
CIVIL WAR GUN SOUNDS!
A sound system is available which allows recorded gun sounds from Civil War Cannon to be broadcast from hidden speakers located near your Civil War gun emplacement. The sounds are triggered either by a person passing by the gun emplacement or by the push of a button on a nearby stand. The sounds can also be triggered by a wireless remote 'clicker.' The speaker system is rated at up to 100-watts which means the gun sounds can be heard up to 2000 feet away. The system is 'weatherized' and can be hidden in (available) fake rocks. The electrical requirements are either common 120 volt household power or by rechargeable batteries. In addition to Civil War gun sounds, any other recording can be played such as a voice greeting or music, etc. Please call (804-824-8859) for additional information and current pricing.
FULL SIZE CARRIAGE WITH 1000 LB. CAST IRON GUN BARREL
"When do you realize when you're a kid that you're going to be great and everybody else doesn't understand that?" Leaf told The Associated Press in a rare series of interviews. "I don't know. Russell High to a state championship his junior year; an injury early the following season caused him to miss a third of the season. That the thing, and my only problem with this story. The title doesn mention Carolina, but stories like the one you mentioned, do. When an ex State player does something, his name, and NCSU are up in lights for all the world to see. When a Carolina player does something, we often just see wording like we did here, simply referring to him as an "NFL star". Credit the bravery of black players who have been risking personal livelihoods and making themselves targets in yet another time of racial strife in our nation by explicitly taking stands
james hardan jersey
against racism. Credit coaches like the Warriors' Steve Kerr, who never minces words when it comes to defending civil liberties and the rights of the black men he coaches. Tiger had no idea where he was and embarrassing video of him stumbling through sobriety tests went viral on the Internet. He insisted he wasn't drunk but admitted he had taken both the anti anxiety drug Xanax and the painkiller Vicodin. He said he took Vicodin following his fourth back surgery a month earlier. Greece is well known for its sunny climate and caf culture. It's not necessarily known for its side hustles. In Athens, though, Isobar is making the most of strong sun and stronger coffee by starting up two new businesses on the side: sunglasses brand We Are Eyes and a coffee shop called The Side Project. In 2009, the last
cheap nfl jerseys
time Gary Ablett jnr played in a premiership, Sam Newman thought it would be fun to dress
mickey mouse silhouette
up a mannequin as a female journalist and call the doll "a fair piece". The online comments from 2009 in response
cheap jerseys
to that controversy read like a bygone era, full of bemused defences of Newman's skit as a point of humour. The humour defence officially died last year, when the same female journalist was the butt of a joke about being drowned by some of the same men. The difference between the responses to those two incidents is approximately eightyears, and whatever social force has evolved in that time. SHAKING THE BUSHESEven Armey, so instrumental in giving Warner a chance, cautions: "Don't forget Al Luginbill in this story.""If there was one guy that
cheap jerseys china
helped me as much to
cheap jerseys
get back in the league, it was Al," Warner said. "I still believe to this day that the reason the Rams signed me was simply as a favor to Al because Al wanted me to play in Europe. He had worked with a number of their guys." 1. Will there be any changes to the coaching staff? Owner Terry Pegula announced last week that General Manager Doug Whaley and head coach Rex Ryan will return in 2016. Left unsaid, so far, is the status of the team's assistant coaches. Special teams coordinator Danny Crossman could be a convenient scapegoat for the team, being that he was not a Ryan hire and his unit regressed
cheap jerseys china
significantly in 2015. It's also worth speculating about the future of defensive coordinator Dennis Thurman. In his limited dealings with the media, Thurman carries himself like he was the architect of the Steel Curtain defenses, although his actual results in three years of "running" defenses is far less impressive. Thurman's actual role in running the Bills' unit is up for debate. He's a coordinator in the same way that Curtis Modkins was the offensive coordinator
cheap china jerseys
when Chan Gailey was coaching the Bills. This is Rex Ryan's defense, Thurman just carries a fancy title. If the Bills did want to make a splashy change, Ryan's former defensive coordinator, Mike Pettine, was fired Sunday by the Cleveland Browns. It might be worth a phone call to see if he's interested in coming back. Science fairs give students the opportunity to showcase their creativity. They should also give students the chance to highlight the science behind their favorite activities, whether it be playing a musical instrument, competing in a sport or playing video games. For instance, students who play or watch football can craft many science fair projects based on the science involved in football. If done well, these projects can cover everything from physics to probability to health.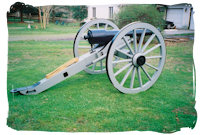 Steel and solid PVC carriage. Will not rot and looks like wood (Don't Let Your Investment Rot Away!). Leave outdoors and do not worry about maintenance or decay. Parrott 10-pounder cast iron gun barrel shown in the photo. Weighs in excess of 1000 lbs. 1/2, 2/3, 3/4, 84%, and full-size carriages available. Wheels range from 28" to 57" in size. The 84% size model has a wheel diameter of 48". Simulated concrete gun barrels with exterior steel liners available for all carriage sizes and built to-scale in each case. Sponge buckets, hand spikes, sponge rods and worms available.
ORIGINATOR OF THE SOLID PVC NO. 1 FIELD CARRIAGE
FEATURES
Solid PVC construction with internal steel reinforcement. Finely textured surface holds paint well and looks like wood (Don't Let Your Investment Rot Away!). SIMULATED WOOD GRAIN FINISH NOW AVAILABLE FOR THE PVC CARRIAGE!
WHEELS
Solid PVC hub, spokes and outer rim. Spokes are tapered and of oval cross-section. Contain steel reinforcement.
• Dished Design •
• Steel tires, 3" wide •
• Steel bands on the hubs •
• Wheels roll smoothly on steel axles •
STOCK OR TRAIL
Solid PVC stock of exact geometry. Steel attachments (trail plate, trail handles, lunette, elevating screw, prolonge hooks, wheel guard plates).
CHEEKS
Solid PVC cheeks of exact geometry. Steel attachments (trunnion plates and caps, cap chains, washer hooks, linstock socket, D-rings, understraps, implement hooks).
AXLE HOUSING AND AXLE
Steel attachments (axle bands and understrap).
SHIPPING
UPS - Ship wheels in two wood boxes, ship stock and axle housing in a third wood box, ship barrel on a pallet. Customer removes parts from the boxes and assembles the unit. Customer pays UPS charges and box construction / packing charges.
Direct Ship - Using a rental van, the carriage is loaded as a complete unit. The barrel usually is carried on the floor of the van and placed on the carriage after arrival. Customer pays van rental, fuel charges, and driver charge.
LOCKDOWN KIT
A kit is available to lock the carriage to earth. This kit can be installed by the driver if the Direct Ship method is used.
STACK OF GLOSSY BLACK STEEL CANNON BALLS
Ball size - 2-3/8" diameter
14 Ball Stack, 3 layers, $300.00
30 Ball Stack, 4 layers, $400.00

Balls are mechanically interlocked in the shape of a pyramid and are attached to a painted 2" thick PVC base board.